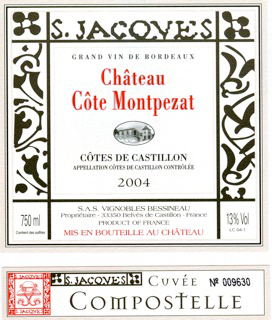 Here is the Chateau Compostelle vintage.
The Compostelle range is the perfect companion for haute cuisine, with a commitment to wine storage that develops more complexity.
These wines are made with grapes from a careful plot selection, harvested by hand. These pre-selected wines receive care in terms of increased thinning and selective de-budding.
The average age of the vines is over 30 years. The maturity levels are followed by tasting the grapes.
These wines are under special care at maturation level. We chose to do so with barrels of wine from Bordeaux properties that demonstrate a strong commitment to their choice of wood and coopers (Laffite Rothschild, Smith Haut Lafitte, Pope Clement for red, and Château d'Yquem for white wine).
A rigorous breeding selection is conducted to reveal the richness of the juices without creating outrageously woody notes.
These wines show the potential of our region to match the best appellations. Selected by many gourmet restaurants and sommeliers these bottles will accompany all of your festive meetings.